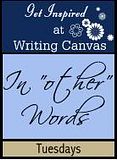 I'm so excited to be guest hosting (hostessing? hmmm...) next week's In "Other" Words. I can't wait to read others' thoughts on Tuesday's quote, and I hope that some of you who haven't participated in In "Other" Words before will jump in and share your thoughts, too!
Tuesday's quote is a recent favorite of mine from C. S. Lewis:
that God will do the best for us;
painful
the best will turn out to be."
~ C.S. Lewis
To participate in In "Other" Words, share your thoughts about the quote on your blog on Tuesday, and come back here to leave the link to your post. Then visit other IOW participants for their take on the quote. You do not have to have participated before to post...and if you don't have a blog and would like to share, feel free to leave your thoughts in the comments on Tuesday's In "Other" Words post.
Many thanks to Loni at
Writing Canvas
for giving me the opportunity to guest hostess and for organizing
In "Other" Words
each week! Visit
her blog
for more information on
In "Other" Words,
and while you are there, be sure to check out her
give-away
for the book
Hidden Joy in a Dark Corner
(as well as her review of the book!) I
loved last week's quote
from the book, and can't wait to read the whole thing.